6 Things you can do while waiting for a new baby's arrival
This shop has been compensated by Collective Bias, Inc. and its advertiser. All opinions are mine alone. #HappierFirstMoments #ForBetterBeginnings #CollectiveBias
As I'm waiting for our third son this coming August, I've been doing something to keep myself busy and help me prepare for the newest member of the family. I want to share a few ideas on things a first time mom (or an expectant mom like me) do while waiting for the new baby. I also partnered today with Playtex Baby™ VentAire® at Target , who offers a unique bottom vent and angled bottle design to help prevent reflux (which I've experienced from my older son!).
1) ORGANIZING A BABY PHOTO ALBUM
I love taking photos! This is a great time to prepare a photo album for a new baby. Whether you do it digitally or traditionally (which I prefer), you are able to treasure these moments for years and look back on how your precious little one has grown.
2) SEARCHING FOR EASY MEALS
Something I'm trying to finish up is to find easy meals to make. I want to prepare for the time when I have two toddlers and a newborn, but still have to make dinner.. It's unpredictable when you have newborn: you don't know if he will get fussy or fall asleep during cooking time. That's why having easy meal ideas prepared, like using a slow cooker or a one pot recipe, is a great way to make dinner planning easy. Here are some of my favorite easy meals [Beef Stew Slow Cooker, Chicken Adobo, Slow Cooker Baby Back Ribs]
3) PREPARING WHAT BABY NEEDS
Since I'm having my third son, I have most of things I need for him already. However, there are a few items  I'm preparing, including newborn diapers, new onesies, finding him an animal stuffed toy (all of my boys have their favorite animal stuffed toy, like a frog and an owl), and preparing milk bottles. As I have mentioned in past posts, our second child had very bad reflux and we are hoping this doesn't happen again. Even though I'm still going to breastfeed our new baby, it is good to have milk bottles like Playtex Baby™ VentAire® to help  comfort the baby's tummy, and which are designed to reduce reflux in feeding. My husband Brent also helps with feeding so I can catch up on sleep, so having milk bottles is at the top of list. Having dad feed the baby from time to time is also a great bonding experience.
4) STORING WISDOM AND STRENGTH
What I have learned from being a mom is that you should be preparing not only material stuff but also preparing yourself mentally and spiritually. Pregnancy can be overwhelming, especially if you are a first timer or have older kids already. Reading inspiring articles or books about motherhood, as well as reading Bible verses (like Psalm 28:7, Matthew 6:34, Philippians 4:6), can make you feel positive and build strength mentally and spiritually. Reading is also a great way to relax your mind and have some quiet time for yourself.
5) SPEND MORE TIME WITH OLDER KIDS
If you have older kids like I do, this is a good opportunity to spend more time with them before another child comes. My boys and I love to read books together, play hide-and-seek, and swordfight with foam swords (welcome to my life as a mom of boys) These are great bonding times which result in wonderful memories for you and your kids. This is also a good time to talk to your kids about the upcoming new baby, and how they need to be careful and gentle to him 😉
6) KEEP ACTIVE
As much as I just want to sleep and eat, having toddlers makes my pregnancy active, even in spite of the hot weather in Texas and my heavy baby bump. I stay active by walking with my family in the evening, stretching or doing yoga at home (check out this great yoga video on Youtube I use), and swimming with the kids in the pool. One fun thing about keeping active is that the kids can often stay active with me, which is both fun for them and helps them stay healthy. For example, they love to try to do yoga with me.
Buy 2, 3-packs of Playtex Baby Bottles (Nurser or VentAire), and receive a $5 Target GiftCard, valid 7/1 – 7/14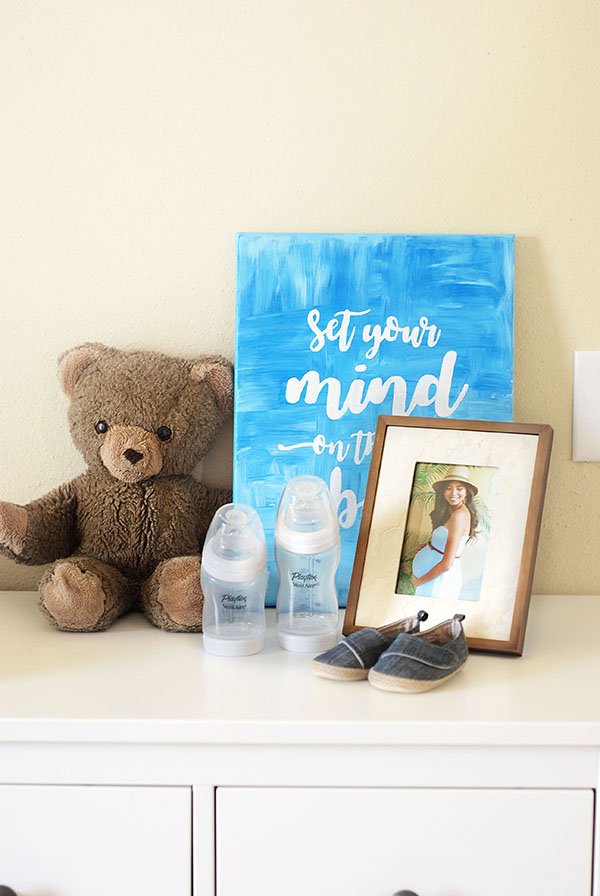 You may click the image above to shop and discover this amazing bottle for your baby.
Are you expecting this year? What are the things you are doing/preparing while waiting for your little one?